Got Mold? Here's Why You Need Remediation Fast
8/28/2019 (Permalink)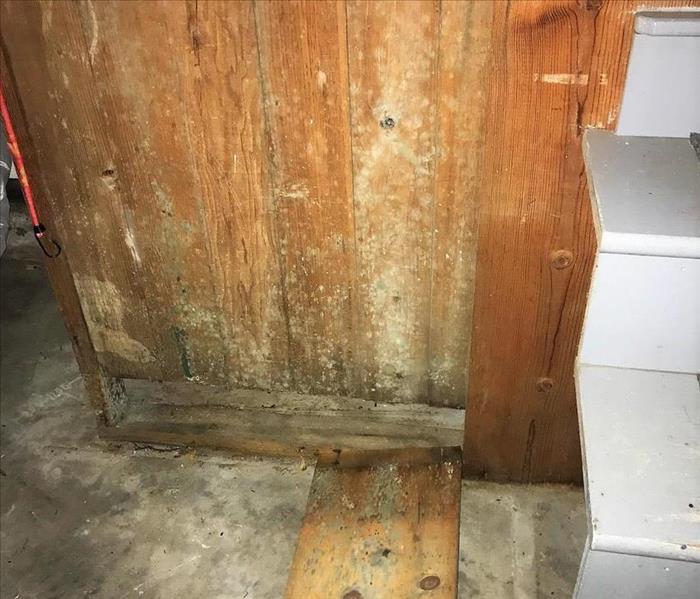 Have you had a leaky pipe or faucet? Have you noticed odd spots appearing on the walls and ceilings of your home? Has your property suffered any recent water damage?
If you've answered "yes" to any of these questions, then you may have a bigger problem on your hands than what may initially meet the eye. If water has entered your home or gone somewhere in your home other than a drain or a drinking glass, then you may have a mold problem on your hands.
While mold can serve a viable purpose outside of the home, inside of the home it can do the opposite. Not only can it damage porous building materials and spread if it is left untreated, but it can also pose an indoor health hazard as well. It's why any mold issue should be resolved as soon as it's discovered, and also why any mold-causing incident — such as a home water damage situation — should be handled by restoration professionals to prevent subsequent mold growth. At SERVPRO of San Mateo, we're restoration professionals that you can count on to remediate mold and fix the underlying issue so that it stays away for good.
Remediation to Industry Standards
At SERVPRO of San Mateo, all of our restoration professionals are trained to the industry standards. As an IICRC (Institute of Inspection, Cleaning and Restoration Certification) certified firm, we handle any type of property damage according to IICRC standards. On mold remediation, we follow the IICRC's S520 Standard for Professional Mold Remediation. Abiding by this standard, we follow the proper protocol for every mold remediation job we're called out to. We use the proper tools, always make sure to wear the proper PPE and we'll set up containment barriers when necessary so that mold doesn't cross-contaminate other areas of the home while we're removing it. On every mold remediation job, it's our goal to remove affected materials, kill or remove existing mold on non-porous materials and make sure that any underlying issues that led to mold growth are also resolved.
How to Recognize Mold Growth
Often times, identifying mold growth is fairly easy. For instance, if your property has experienced recent water damage, subsequent mold growth may occur. If you see dark spots appearing on your drywall or ceiling, it's often mold growing from a leaking roof or leaking pipe. Other times, mold growth may be more difficult to identify. So how can you be sure that there's a mold problem before you call in the professionals for help? Here's a look at a few signs of mold growth that are easy to detect:
Chipped paint, wallpaper: Moisture issues can lead to chipped paint on drywall or peeling wallpaper.
Smell: Do any rooms in your home have a musty or musky smell? That's a sign of mold growth.
High humidity: Mold loves to grow in areas of high humidity.
Health issues: As we noted in the opening and will cover in the section below, mold exposure is related to a slew of potential health issues.
Health Hazards Associated with Mold Exposure
Are members of your household experiencing runny noses, wheezing, headaches, watering eyes, sore throats and/or respiratory issues? Is there no obvious reason for why they're experiencing these issues? If so, there's a good chance that they could be experiencing these health issues from mold exposure. Aside from the obvious property damage that mold can cause, the health issues that it can lead to is perhaps the biggest reason why you don't want to ignore any signs of mold growth in your home. Putting off remediation or attempting to do it yourself is only likely to make matters worse in the long run.
For more information on our professional mold remediation services, contact SERVPRO of San Mateo. As a full-service restoration company, we pride ourselves on qualified, certified and courteous restoration professionals that can help restore your home to preloss condition. We're always working according to the industry standards, and all of our technicians receive regular continuing education so we can continue to provide a high level of service for our customers. Contact us today for more information on our disaster restoration services.