The Leading Causes of Fire Damage
8/30/2019 (Permalink)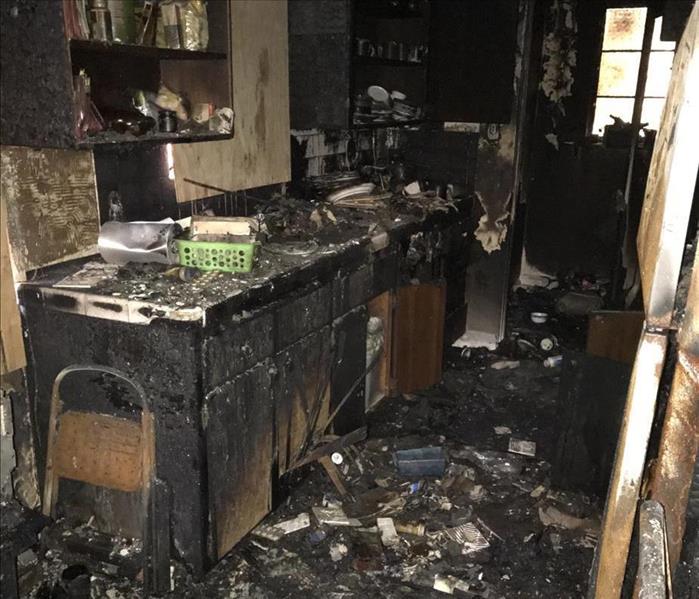 Every 24 seconds in the United States, a fire department is called out to a property fire. And while deaths from structural fires have plummeted since the 1970s thanks to the widespread installation of smoke detectors and other early recognition technologies, fires continue to be one of the most common causes of property damage in America. According to data from the National Fire Protection Association, nearly 500,000 home fires occurred in 2017, totaling about $6.5 billion in total property damage. SERVPRO of San Mateo is there to handle any of your fire and/or smoke damage restoration needs in California's Bay Area, yet we thought it would be worthwhile to take a closer look at the leading causes of fire in the United States and in the state of California.
The Leading Causes of Fire
While some fires are accidental and preventable, others are largely out of the control of home and business owners. While every state is susceptible to property fires of both kind, California — especially it's Bay Area — is unique in that in addition to accidental, preventable fires, the region is highly susceptible to property damage from wildfires. And there's been an increase in the number of wildfires that occur each year in the state. Before we get into some of the other causes of fire, wildfires demand a special focus.
Because of how dry California can get at certain parts of the year, wildfires may occur due to a variety of reasons. Even something as minor as a vehicle spark can lead to a brush fire, which can escalate into something much bigger. Other causes of wildfires include downed power lines from storms, out of control campfires, fireworks, even shooting on a gun range. Unfortunately, arson is also believed to be a major source of wildfires as well.
Here's a look at some of the other leading causes of property fires:
Cooking equipment: Ovens, stoves, overheating pots and pans, deep fryers, and more are the leading cause of fires for homes and businesses every year. Most of the time, cooking-related fires occur when food preparation is left unattended.
Heating: Portable furnaces are the biggest risk when it comes to heating fires, largely because many home and business owners place them too close to flammable objects and materials. To stay as safe as possible, it's suggested keeping any flammable objects and materials at least 3 feet away from portable furnaces.
Smoking: In dry climates, cigarette ash can be all that's needed to start a brush fire. But in the home, smoking can lead to fires as well. Cigarettes that aren't put out properly can eventually spread, possibly coming into contact with flammable materials. Smoking is always best for an outdoor environment, as smoke clings to building materials and may require smoke damage restoration and deodorization at a minimum. But even outdoors, it's essential to properly put out cigarettes — especially in the California Bay Area.
Electrical issues: Are fuses blowing out or tripping more than you think they should? Do lights occasionally dim in the home when you draw power from another source? If so, it's the sign of an electrical issue within your home, and the issue could potentially be dangerous.
Other causes of fire include candles, children playing with matches or lighters, and lightning.
If Your Property Has Been Fire Damaged, Contact SERVPRO of San Mateo
As a professional, full-service restoration firm, the Bay Area experts at SERVPRO of San Mateo know how much a property fire can uproot a business or a family. It's why we're dedicated to prompt response and putting a plan in action to help restore any type of property to preloss condition. We abide by all industry standards in our efforts, including the IICRC 700 Standard for Professional Fire and Smoke Damage Restoration and the S740 Standard for Professional Restoration of Fire and Smoke Damaged Personal Items. Most importantly, when responding to a fire damage situation, we'll ask home or business owners one simple question: "What's your most important thing?" Then, we'll do everything we can to recover and restore the item in an effort to make the recovery a little bit easier.
Fire damage restoration doesn't work that just any restoration contractor will take on — it takes a special kind of company and professionals that exhibit both expertise in the area and compassion to work with affected occupants. For more information on SERVPRO of San Mateo and fire damage restoration in the Bay Area, contact us today.