SERVPRO of San Mateo can help with water damage
9/5/2019 (Permalink)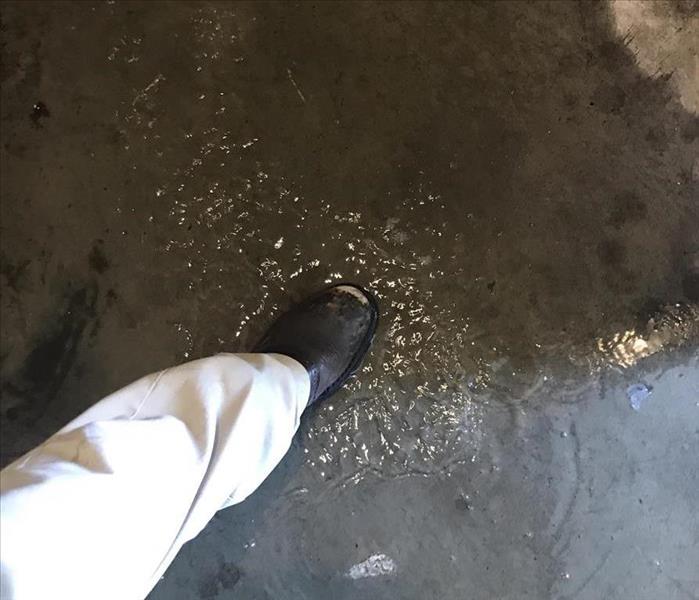 My Home Has Experienced Water Damage, What Now?
You come home to realize that a faucet was left on and overflowed all over your kitchen or bathroom. Or a pipe busted inside of a wall cavity, causing water to soak through multiple floors. Or a heavy storm came through the California Bay Area and flooded out the lowest level of your home.
These are all home nightmare scenarios involving water damage, and chances are it's going to happen to you at some time in your life. It's estimated that up to 14,000 people in the United States experience a water damage event each day. It's also estimated that 98 percent of all basements will experience some sort of water damage in their lifetime. Now that doesn't mean that people shouldn't go about living their lives or finishing their basements, but noting all of this, it does reinforce the importance of knowing what to do when your property becomes water damaged. And while SERVPRO of San Mateo can certainly help restore your home to preloss condition, there are other various steps you should take along the way before we arrive on the scene to mitigate further damage and danger. Here's a closer look:
My Home Has Been Water Damaged, What Do I Do?
So your home has been water damaged? Here's a look at what you can do to make sure that the restoration process goes smoother:
Stop the source of water: If applicable to your situation, the first thing you'll want to do stop the flow of water. In the event of a busted pipe, your best bet is to shut off the water coming into the home. In other situations, you may be able to shut off the water to faucets, toilets or washing machines. Eliminating the source will help contain the water so it is unable to spread further throughout your home. However, if your home has been flooded by rainfall, you won't be able to stop the flow of water until the weather passes.
Turn off the power: If you're able to safely access your home's electrical box, shut off the power to the home. This will likely prevent the water from causing damage to your home's electrical wiring.
Gather any valuables: Though any porous building materials damaged by water will need to be removed and replaced, many of your home's contents can be restored. Contents restoration has come a long way, and the likes of textiles, electronics, books, pictures, and other collectibles can now be adequately restored to preloss condition. Contact SERVPRO of San Mateo today for more information on contents restoration.
Assess the damage and call in the professionals: Finally, after the scene has been contained, you'll want to call in your Bay Area restoration professionals, SERVPRO of San Mateo.
As a full-service restoration firm, we pride ourselves on fast response times so that we can get to work restoring your property to preloss condition quicker. When we arrive on-site, we'll assess your property and come up with a plan to restore it so that you can get your home — and your life — back. We'll start by pumping out any standing water and then removing and discarding damaged unsalvageable building materials. We'll also pack out any contents that need to be restored. As professional restorers, we follow all IICRC (Institute of Inspection, Cleaning and Restoration Certification) standards, including the S500 Standard for Professional Water Damage Restoration. We'll set up air movers and dehumidifiers to help materials dry, and we'll take the proper steps to ensure that mold growth does not occur as a result of any water. Finally, we'll also be sure to get to the root of the problem that caused the water damage in the first place, so that you can rest assured that you won't have to experience this inconvenience again.
At SERVPRO of San Mateo, we're experts when it comes to professional water damage restoration, and you can rest assured that we'll do it right so that you can get your home back. For more information on what to do in the event of a water damage situation, contact SERVPRO of San Mateo today-Call Us 24/7 – (650) 931-6060 .