Modifications to Industry Standard for mold removal
10/19/2017 (Permalink)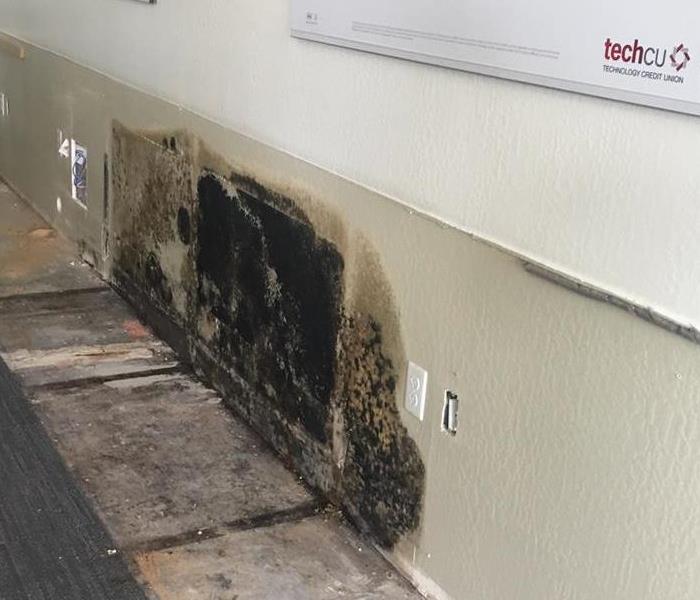 This water damage was a result of mold, Property owners did not call to take care of this water damage immediately.
After years of scare tactics presented by national media outlets, the IICRC pulled the reigns back on fly - by - night restoration companies that claimed to disinfect or remove mold through encapsulation, ozone, or other decontaminates. In doing so, the S-520 was created to help provide a national standard that centered mostly around "source removal" of affected material, as we well as proper standards for creating containment, establishing negative air pressure, and properly removing mold. This document contains a wealth of knowledge pertaining to the health effects of mold exposure. As the restoration industry is a constantly evolving industry, the standard is often considered a 'living' document. Like most industries, change is driven by technological advancements.
What You Should Know About Mold
Mold is a naturally occurring organism and certain levels are considered acceptable in both indoor and outdoor levels. These levels are often referred to as Condition 1 type mold. When physical growth is achieved (Condition 3) on building materials, it has the propensity to produce a Condition 2 type situation where spores and hyphae settle on surfaces. Actual growth includes growth of any type of mold (active, dormant, visible or hidden). Not all mold is harmful, but certain types can cause health effects to immune deficient or allergenic prone individuals.
Confusion and misunderstanding surround the topic of mold and mold remediation. Some restoration businesses even make claims to remove all mold from a building. This is a fallacy. Mold spores occur naturally almost everywhere, both indoors and outdoors. These microscopic spores float along in the air and can enter a home or business through windows and HVAC systems. Consider these facts:
Mold is present almost everywhere, indoors and outdoors.
Mold spores are microscopic and float along in the air and may enter your home through windows, doors, or AC/heating systems or even hitch a ride indoors on your clothing or a pet.
Mold spores thrive on moisture. Mold spores can quickly grow into colonies when exposed to water. These colonies may produce allergens and irritants.
Before mold remediation can begin, any sources of water or moisture must be addressed. Otherwise, the mold may return.
Mold often produces a strong, musty odor and can lead you to possible mold problem areas.
Even higher-than-normal indoor humidity can support mold growth. Keep indoor humidity below 45 percent.
What Has Changed in the Latest Version?
Verbiage has been the biggest alteration in the newest version of the S520. Better definitions of trigger words are provided to help remediation specialists better interpret guidelines of the standard of care. Misting is more widely accepted for dust suppression. Rules for better servicing sensitive environment facilities like retirement homes and hospitals have been outlined to include real time data logging system. This decreases risk of cross contamination and helps ensure that Air Filtration Devices and Negative Air Machines are operating properly. Mold contamination of Air Conditioning Systems is also better outlined. Use of EPA approved sealants or coatings are more widely observed. Lastly, contractors may now perform Post Remediation Evaluation, but a 3rd party Industrial Hygienist will still be needed to perform Post Remediation Verification.
How Does This Help Protect You and Your Home or Business
Dampness or visible fungi can be found in 50% of residences across the country. At current there are no accepted guidelines defining normal fungal ecology. Comparative or control samples are needed to assess what can be dictated as "safe" however this does not incorporate certain variables like geography, occupancy, land use, time of year, and time of day. The IICRC S-520 -2015 helps bridge the gap in using technological advances and definitive verbiage to reiterate proper remediation efforts are used and quantified in your home or business. Indoor air quality is directly related to personal health and indoor health professionals are constantly being held to a higher standard as more information becomes available.